Unfortunately, Petsmart will not take unwanted, live fish. At this time, the store will only adhere to the returning of fish via their written return policy

which can be found in the store or on their website.
Keep reading to learn about Petsmart, their fish return policy, and other ideas on how you can rid yourself of unwanted fish.
What Is Petsmart?
Petsmart is an American chain pet store. It was first founded in Arizona in 1989 by Janice and Jim Daughtery. What started as a warehouse soon was purchased by a larger company and turned into more of a boutique-style pet store. 
The store's revamping caused an explosion of demand for the store's new featured products and services, such as grooming, pet adoptions, and pet sales. Branded initially as PETsMART, the company renamed itself PetSmart and shifted its focus to pet owners instead of just pets. 
In the mid-1990s, the company added even more services like veterinary care, pet training services, and doggie daycare providers. Additionally, it added a catalog ordering service that expanded from domestic pets to equine and bovine products and services. 
Petsmart Return Policy
The current return policy for PetSmart is that they will accept most returns within 60 days with proof of purchase from a PetSmart store. 
This return policy

does not include electronics, grooming tools, or prescription medications. The product must be new, unopened, and have a valid receipt for any items in these categories. 
The limit on these returns is only ten days compared to the standard 60 days. No returns are accepted on any prescription medications, with or without a receipt.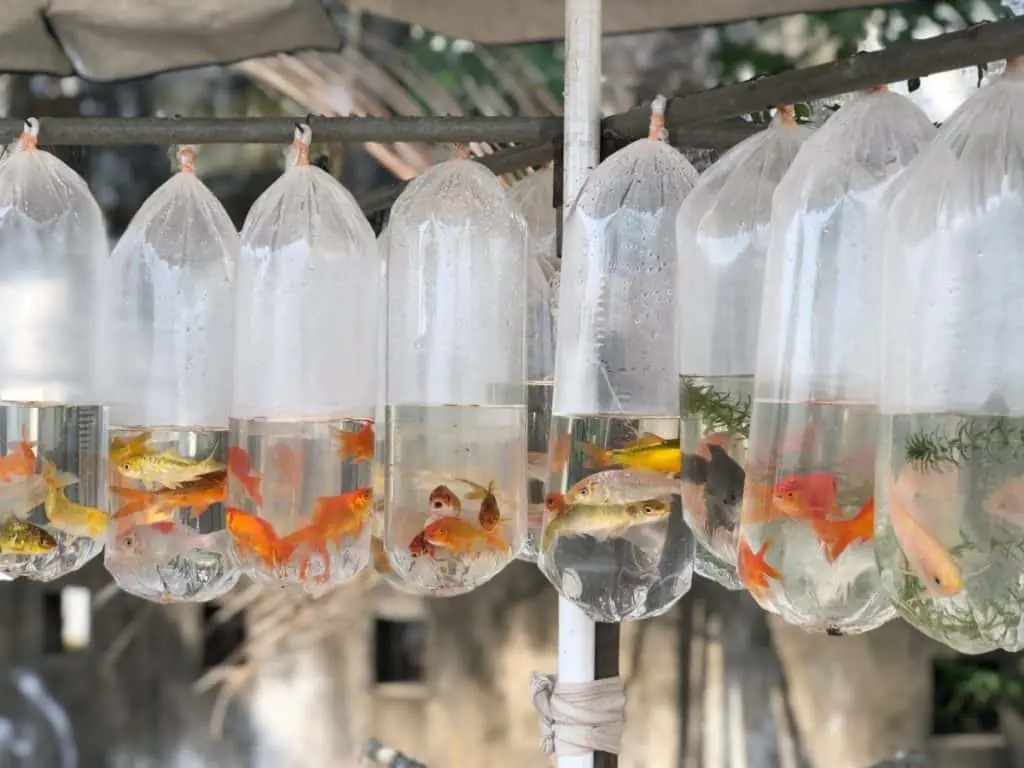 Fish Return Policy
As of November 2021, the official return policy for any fish purchased at PetSmart is that they will take any fish, dead or alive, purchased at their store within 14 days. You must have a receipt to show proof of purchase.
If the fish is alive, bring the fish and the purchase receipt for a full refund within 14 days of purchase. Bring the fish and receipt and a sample of your home tank's water if the fish is dead.
Bringing a water sample along with your dead fish is to help the store employees determine the cause of death. If it was something in your home tank, the employees could test the water to find out.
If something in the store causes death, they will be able to learn about that from the water sample. 
What to Do with Unwanted Fish?
While you cannot simply take any fish to PetSmart, there are plenty of ways to get rid of any unwanted aquarium fish that you may have.
Checking around with local pet shops, friends, or other places that may need a live fish is an excellent start to rehoming your fish. 
Try Local Shops
Checking out local pet shops is an excellent first step in trying to rehome unwanted, live aquarium fish. Local pet shops will take in fish donations to keep in their store's tanks for the most part.
If you plan on donating a live fish to a pet shop, please be sure to let the shop owner or manager know any important details about the fish. Have all information ready like the type of fish, what they eat, if they are sick or healthy, and any other relevant information. 
Give to A Friend
Try asking around friends and family if you cannot find any pet shops locally to donate your unwanted fish. You may be surprised to find that someone may want a fish, which is especially true if you donate all of the tank equipment.
Check with adults that have younger children, no other pets, or those that currently have a fish tank already set up to go. You may find that people who already have fish would be more than happy to take an unwanted fish off of your hands.
Before giving your unwanted fish away to friends or family, ensure that the recipient will have everything they need to care for the fish properly. Do not give your unwanted fish to someone that cannot provide suitable living conditions for the animal. 
Donate to A Local School or Museum
If you are having trouble finding a friend or family member willing to care for a fish and complete tank, the next option is to check around locally to schools and museums.
Often you will find that local museums, especially natural science museums, will have fish tanks set up as part of their exhibits. If you have a local variety of fish, museums will adopt native species to keep in their tanks. 
Schools are another good place to check if anyone has a fish tank set up or would like to set up one. For children ages 5-10, elementary schools are an excellent place to start. Many teachers love to have live fish in their classrooms to help with their lesson plans. 
What NOT to Do with Unwanted Fish?
While we have discussed ways to get rid of unwanted fish, there are also a few unacceptable ways to dispose of unwanted fish. Like any other living animal, fish should be cared for responsibly, and unwanted fish should be given a proper home.
Keep reading to learn how you should not dispose of unwanted fish.
Do NOT Flush!
While we all realize that fish live in water, it can be tempting to flush any unwanted fish down the toilet. That's where they live anyway. Wrong! Do not, under any circumstances, flush live fish down the toilet. 
There are several reasons for this rule, but the most important one is that you will create an environment where a live fish, when flushed, will live for several days, slowly dying within the sewers. It is a prolonged and painful death for the animal, and Aquarium fish cannot live in American sewers. 
While it is cruel to flush live fish down the toilet, it is also very illegal within the United States. Because the US has many laws about introducing non-native species into the waterways, this is important for most tank fish owners. 
This is because most tank fish are not native to the United States. If they survive being flushed down the toilet, the fish could wreak havoc on other local fish populations.